DID DA VINCI FLY?
"But this flying machine he imagined was like no other device he had ever sketched or built. He had reached beyond nature to conceive a child's kite with flat surfaces to support it in the still air. It would have double wings, cellular open-ended boxes that would be as stable as kites of like construction.

"Stable...and safe.

"The pilot would not need to shift his balance to keep control. He would float on the air like a raft. Tista would not have lost his balance and fallen out of the sky in this contraption."

(source)
A late 19th, early 20th century flying machine, a virtual copy of a Florence Da Vinci Glider.
Notice the pilot in lower wing center "Floating on the air like a raft."- See Da Vinci Gliders.
RETURN TO:

LEONARDO DA VINCI AND THE CODEX ATLANTICUS

OR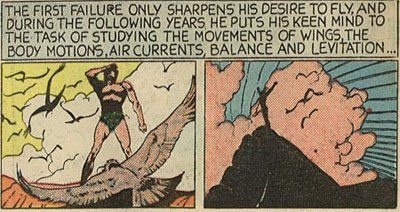 THE BLACK CONDOR: THE MAN WHO COULD FLY LIKE A BIRD
(please click)