501 8th Avenue, Greeley, Colorado 80631
OBITUARY, DECEMBER 21, 2003

Posted on Monday, December 22, 2003 @ 09:45:24 PST

George Thompson

George Donald Thompson, 83, of Greeley died Wednesday, Dec. 17, at Bonell Good Samaritan Center in Greeley.

He was born Jan. 23, 1919, in Kansas City, Mo., to A.R. "Tommy" and Emma Thompson.

On Sept. 20, 1941, he married Ruth Marie Timmons in Kimball, Neb.

Mr. Thompson graduated from Wheat Ridge High School. After his honorable discharge from the Army after World War II, he and his wife worked for Harvey Nininger at the American Meteorite Museum in Winslow, Ariz.





AMERICAN METEORITE MUSEUM, WINSLOW ARIZONA, CIRCA 1948
After returning to Colorado, Mr. Thompson worked in security at Denver Dry Goods and later at the Sheriff's Department in Park County, where he and his wife built a house from what had once been a cabin. They retired to Arizona and moved back to Colorado after a few years to be closer to family.
George and Ruth had no children. She died April 8, 2003. His parents and his brothers, A.R. "Tommy" Jr. and Herbert, are deceased.
Memorial services will be at 1 p.m. Tuesday at Stoddard Funeral Home, 3205 28th St., Greeley. Cremation.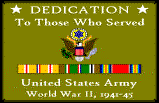 ---
SEE:
MEDITATION ALONG METEOR CRATER RIM

THE WANDERLING'S JOURNEY


(click image)
GASSHO